Another one-off disc wonder-group that is now revered on the Rare Soul scene world-wide...The Explosive Dynamiks! Yes, they are a mixed race bunch of guys, but the Northern Soul scene is not hung up on "Soul" - it just searches out danceable records...and this one qualifies!




When Larry first responded to my inquiry, he said that it was the first time he had recieved any interest in his former band since he had left it back in 1967!  They had actually got together and started playing during the 1963/64 school year.  There were initially seven of them, drummer, organ/piano, bass guitar, lead guitar, and three singers who alternated lead singing parts, and backup.  The brass featured within the tracks was courtesy of session musicians...two guys one playing bass and the other playing both an alto saxophone and a trumpet too, though not at the same time! Larry:
"It was very simple, and we did not have many of the modern techniques of recording.  The recording studio was a garage type studio, but we had a great deal of fun making the recording".  


They gained some notariety locally by playing the typical prom circuit, special occassions and clubs, gradually working their way up to some larger cities like Lexington, Cleveland, and Cincinnati.  One exciting time for them was being invited to play their new release on a television show based in Cleveland called, "UPBEAT".  That particular show was headlined by James Brown, and included Bobby Goldsboro and other up and coming stars...anyone got a copy? Their forte was the R & B sound of the day, and of course Motown.  Larry cited the Temptations, Aretha Franklin and Gene Chandler amongst his favourites, and also said that they covered popular British group sounds, but that it wasn't their main strength at all.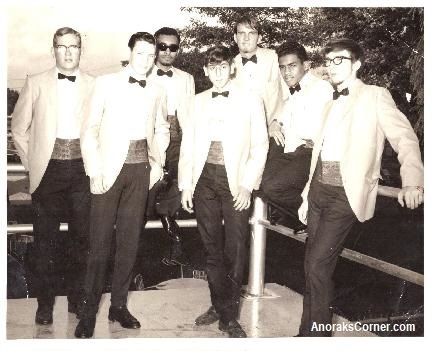 Above is a picture of the group that actually recorded the disc for Lemco

with one exception...the original bass player was Buck Huntley.

From left to right are Wayne Brown - Bass guitar, Larry Sumpter - Lead guitar, Mike Thomas - Lead singer,

Rick David - Drums, Lindsey Blair - Singer, Lorenzo Bates - Singer, Charles "Tyke" Stover - Keyboard